Wingbrush Interdental Brushes
The new generation of the interdental brush!
As a popular and effective alternative to dental floss, cleaners are safe and easy to use for cleaning between natural teeth and around crowns, bridges, dental implants, and orthodontic appliances. The WingBrush is a device that lets you easily floss your teeth without the need for an actual string of floss. It uses a brush that gently slides between your teeth each time you press it down.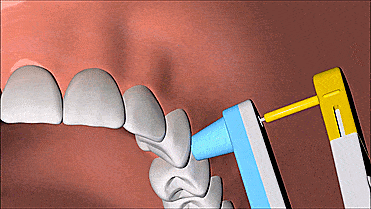 To use it, just place the WingBrush in-between two of your teeth and press it down. Once pressed, a brush will slide between your teeth and come right back out when you let go, while digging out any crap left between your teeth. You can then repeat between every tooth, and you'll be done flossing in a fraction of the time it normally takes. 
The interdental brush simplifies the cleaning of the interdental spaces.
The conical interdental probe glides along the teeth and intuitively senses the interdental space. 
Gentle bristles and a plastic coated metal wire gently and effectively cleanse even delicate implants.
Our range of three different brush sizes means that you can choose the perfect size for your interdental gaps.
cleaners are easy to use, specially designed interdental brushes to remove dental plaque from areas between the teeth most commonly missed by toothbrushing alone.